Paul, expediter / inspector
at Abydos since 2011
"Abydos is not for someone who is afraid to get dirty. It's for real men."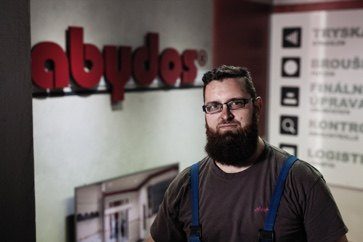 In the workplace, we get along really well. We horse around sometimes. But we also know what we can expect from each other. We know that if we need to, we can make a deal, and we can help each other. And that's great.
Like when a shift quality inspector was absent. The foreman was alone in the hall, so I took care of a shipment of goods and then I went around the hall, checked samples and signed off on their quality. I had worked this position before, so I already knew how to do it.
Actually, during 8 years at Abydos I've worked several positions. I started in the IT department and went on through shipping, assistant shift foreman and various types of shift inspectors. Well, two years ago I went back to shipping.
I like that I don't always have to sit in an office. It is a part of the job, but I don't have to be there all the time. I can go into the hall; I can see how it's going: the company, quality, everything. I'm given tasks that I must do, but I decide what I do now and what I'll do later.
I even tried my hand at grinding. When we had little work, we were asked to help with grinding for at least part of our shift. I had little parts. It was awful. My back hurt from it. Those grinders were lower than I needed, so I was bent over.
Working at Abydos is not for those who are afraid of physical work, who are afraid to get dirty, or who can't stand working in a dirty environment. It's for men. I've seen big burly guys who couldn't hack it. And I've seen skinny guys who could.
If you're a gifted grinder, you can earn good money. But I can't complain about the shipping department. I'm happy. I think that if you work at Abydos and you don't have big financial problems from your past, you can take care of your family in a decent way. In addition, Abydos also tries to help employees who run into problems. Whether it's housing, with family or with money, like a foreclosure.
Gossip spreads fast, and I know there's gossip about Abydos. Once I heard some guys talking about how awful it is here and that you just can't work here. And when I glanced at who was talking, I said, "Oh, great, it's you. I know you don't want to work hard. And now you're telling stories. You worked there for a week and you didn't even show up three days." Well, but other listen to the rumors and spread them further. Gossip spreads better than the truth.