Helena, financial accounting
at Abydos since 1990
"Even though I have been working here for 30 years, every week something new is waiting for me. And I like it."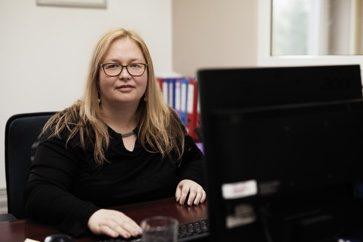 Next year it will be 30 years since I've been at Abydos. We've been through a lot together, including my three pregnancies. When I was on maternity leave, I returned to work after six weeks. And I admit that I was glad that the company offered me this possibility. They gave me the opportunity to set the scope of my work.
It's true that the work was different. For example, I introduced new software. That was something completely different than what I had done before. So I had a lot of learning to do. I think it was fine. Last year I worked with grants from the European Union, which was again something different. I didn't know anything about it. So I read a lot of literature and learned. It was also very nice.
The owner is very creative and has a lot of ideas. I think more and more new projects will come our way. I like that I'm always doing something different, even though I've been here for 30 years. I like that it's not just routine work, which is always the same.
Abydos was my first job. I joined here after I graduated from school when I was about 19 years old. I'd say that I didn't even know how to push the button on the printer. But there were very dear co-workers. And even though some of them were twice my age, they put up with me and soon we became friends. And I really learned a lot.
One of the reasons I'm here is that we are a smaller company. We don't have three layers of management over us. We have an owner who is here with us almost every day. She knows everyone by name. And she knows what they need. That's a big plus.
I was fortunate to work with the managers. And I learned one thing. There is nothing that we can't accomplish. If a person wants to do something, he will find a way to do it. Abydos appreciates honest labor. And they reward that work financially. I think that's great.